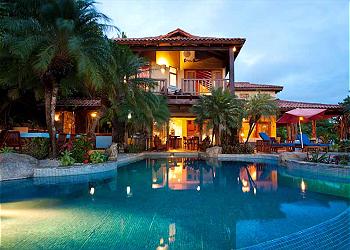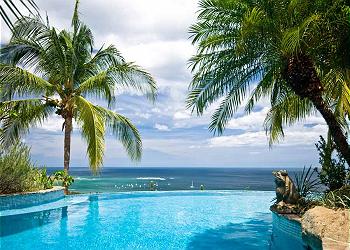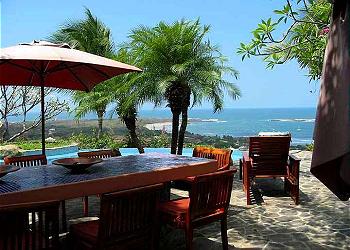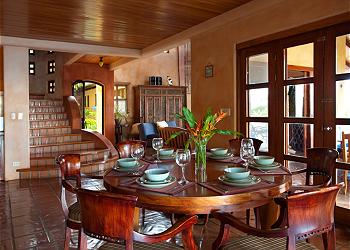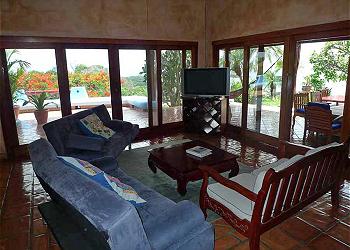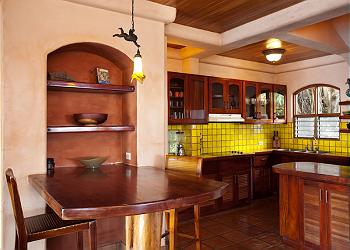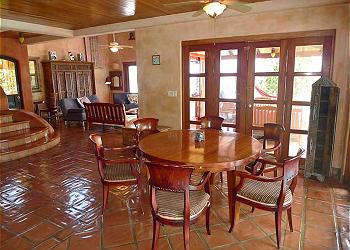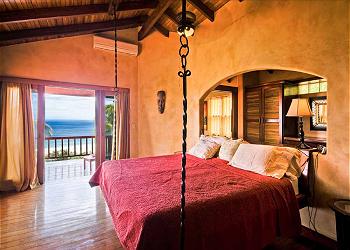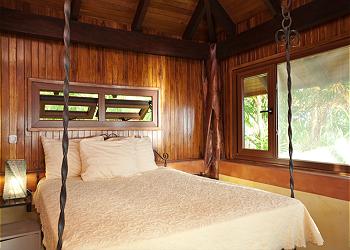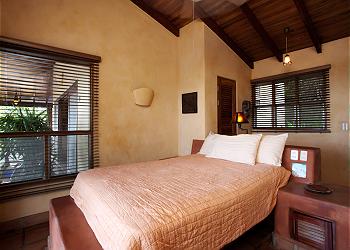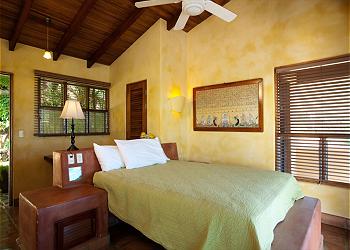 Casa Leo Loco, a Mediterranean style villa near the top of the hill overlooking Playa Tamarindo has views that will leave you breathless. It can be rented as a 3 bedroom house or a 5 bedroom with the adjacent tower."

Unique among the vacation homes in Tamarindo, Casa Leo loco achieves a perfect balance of a beautiful, exotic setting with the amenities and comforts of home.

The sights, sounds and scents at Casa Leo Loco deliver all the beauty that nature has to offer in Tamarindo. Wake up in paradise to the panoramic (220 degree) view of the beaches, forests, and harbor. Watch the parrots, mot-mots, orioles, hummingbirds and 50 other species of magnificent birds as they fly by or stop to chat in the expansive terraces and gardens. Surfers and boats bob in the waves below. Observe iguanas sunning in the trees nearby. Track Tamarindo's howler monkeys as they progress through the neighboring forests. Delight in the fragrant Plumeria scents wafting on the gentle breezes. At night, from Casa Leo Loco's many terraces enjoy the twinkling lights of the town below or the fantastic show put on by the stars above.

Casa Leo Loco is a secluded, gated Mediterranean-style villa in the picturesque town of Tamarindo (see video overview on YouTube http://www.youtube.com/watch?v=4DQRF7U7GK8). You will see that there are spectacular ocean views from every room in the house, in minute you walk in the front door. You are immediately drawn to the largest private infinity pool in Tamarindo, surrounded on three sides by the extensive, beautifully landscaped gardens. Generous common areas allow dining al fresco, entertaining and socializing with your guests as well as relaxing in solitude in private nooks. The spacious house is open to the ocean breezes and has ocean views from every room. Tropical and Balinese decor give you a sense of the exotic yet daily maid service makes it better than home. In the five air-conditioned bedrooms, a total of up to nine guests can be accommodated. A large flat screen TV, cable, telephone service and free internet access let you stay connected to those who wish they could join you

Stroll the half-mile down the hill to the French bakery and the beach. Spend the day shopping, deep-sea fishing or touring Costa Rica's famous cloud forests, volcanoes and parks, then return home to a stunning sunset over the ocean. Grill your catch of the day at home or dine in one of Taramindo's excellent restaurants before settling in for the night in comfort and at peace.

Due to the open nature of the pool area, children under 5 or non-swimming children are not permitted.
Casa Leo Loco Amenities

Private gated property Ceiling fans throughout
Panoramic ocean views (220 degrees) Full Kitchen--microwave, garbage disposal, dishwasher
Huge infinity pool Gas BBQ Grill and second outside kitchen
Spacious roofed terraces Free Broadband wireless internet
Large beautifully, landscaped grounds Cable TV/ DVD/ CD Player
Courtyard with fountain Maid service daily (ex. Sun)
Open floor plan with ocean views in every room Washer & Dryer
Beautiful wood, tile, & architectural details throughout Safes in each bedroom
5 bedrooms accommodate 9 guests 24-hour caretaker on site
3 and 1/2 bathrooms (half-bath cold water only) 2 car garage
Luxury Master suite - granite counters, full size tub, king bed Plenty of secure parking
Master suite balcony over pool
Air Conditioning in all 5 bedrooms
RATES
$4500/week High season
$3800/week Low season
Easter, Christmas and New Years weeks - $6500/week
8 person maximum